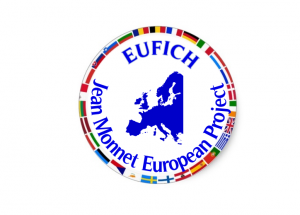 Under the activities programmed during the Project, each academic year will take place:
Monthly Newsletter (sent to the students of the Faculty of Economics and Business Studies).
Introductory courses to elderly people.
'Connect to Europe' Radio Programme. The Project has a weekly program at University Radio broadcasted through FM, an online platform and Periscope in order to spread the events scheduled, provide information about the EU and debate.
Intensive Seminars about the main challenges in EU economy taught by key teaching staff of the Project.
Poster Students' Exhibitions. This academic year the topic selected is:  European Unión Institutions.
Poster Students' Exhibition Video Series. Related to the exhibition, students will record a short video for each poster that will be available online.
Summer course with EU thematic contents.
Interviews and video conference with the speakers.
Complementary activities: This academic year thanks to financial support of Economist Professional Association of Leon, has been organized "II Conference about European Union".