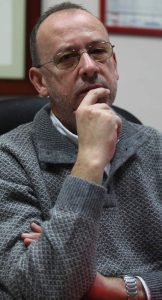 On Friday 21st April, the EUFICH Jean Monnet Project had the pleasure of welcoming Mr. Ignacio Fernández, former chief at the local division of the Spanish Labour Union Comisiones Obreras (CCOO). Mr. Fernandez has a been a key role in labour negotiations between entrepreneurs and employers and has coordinated several activities with other national and European labour unions.
Our speaker exposed his experience for the students of the subject European Economy and Integration, linked to the EUFICH project. He focused on explaining two main facts.
First, the functions of organisations such as the CES and the CESE as coordinators of union activities across Europe.
Second, the characteristics of a post-contemporary Europe, highlighting the importance of culture and its diffusion as a factor of cohesion.
In case you missed this seminar or want to watch it again, click below to enjoy it on demand:
Besides, as usual, the Director of the EUFICH Project, PhD. Ms. Nuria González interviewed our speaker after the seminar. This interview completes the contents analysed during the session and allows a deeper knowledge about the point of view of our speaker.