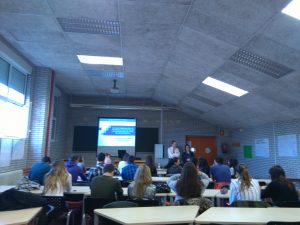 On 31st March, Mr. Fernando Rueda Junquera, PhD in Economics at the University of London and Professor of International Economics at the University of Burgos, visited the EUFICH Jean Monnet Project to explain the advantages and disadvantages of EU Trade Agreements with other countries, especially those located in Central America.
He also offered a future vision on EU Trade Agreements focusing on strategical issues in EU-Asia relations. Besides, he devoted some minutes to explain the competitive factor behind public subsidies and the effects on trade (such as the EU Common Agricultural Policy).
As usual, at the end of the seminar, the students of the Degree in International Trade could pose their questions and debate about this topic.